" HELPING YOU TO ACHIEVE YOUR CONNECTION WITH YOUR HIGHER SELF WITHOUT WASTING YOUR ENERGY AND TIME"
ONLINE OR IN PERSON AT MODBURY HEIGHTS SOUTH AUSTRALIA
Evolutionary Life Coach and Mentor for your
Evolutionary Growth of Self.
for your Clarity and Understanding of Self
TO RECEIVE A DISCOUNTED PRICE FOR UPFRONT PAYMENTS CLICK ON ONE OF THESE BUTTONS TO BOOK IN YOUR FIRST SESSION WITH KATERINA.  
"When you do the inner work and unravel it all, you will create something unique to give to this world. Trust and Surrender to your own adventures by going into the depth of your soul. The amazing part of your evolutionary journey is that you will learn how not to be triggered by all the kaos in your world and achieve ease and grace with your understanding of self." 

Hands On Usui Reiki or Meditate under the Crystal Lights.
Use light and color frequencies that are connected to each of your Chakra systems.
The experience can range from a calming and relaxing session to a life-altering healing experience, particularly as one becomes aware of the energetic connection with the Divine.
Ongoing healing is how you receive your benefits
Most people who have experienced a Crystal Light Bed
Therapy sessions report a sense of feeling lighter and more energized
Anxieties are lifted to give you calm and ease
Each session you are removing Black Goo from your Chakra System
Feelings of having love and support around you during your meditation
Improved sleep patterns
Feel much more energized
Realigns, centers, cleanses and corrects the spin of  each chakra
Removal of Dark Entities and Negative Energies
You will leave feeling lighter and brighter and feel deep relaxation during and after your session
Releasing of past life traumas, attachments, cutting cords that do not serve you in this life
Helping you to achieve grounding and balance 
Arrive with your intentions to make the changes you are seeking
Your commitment to your self-care is the key to your high vibration 
All sessions are designed for your personal transformation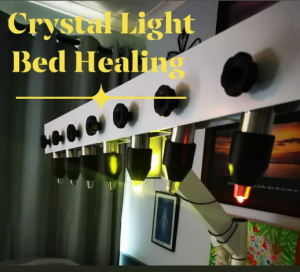 Psychic/Medium/Channel and Light Language Healing Intuitive Oracle Card Readings
Higher Self Connection Session
Click on the blue buttons to book your session with Katerina
All sessions are designed to give you a Safe Place to take you deeper into your journey of clarity and understanding
"Helping Intuitive Healers, Coaches and Readers clear their own blockages & negative attachments so not to compromise their clients wellbeing and safety"